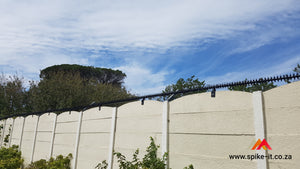 Full 20 meter DIY kit - Security Spikes that Rotates!
Includes:
22 x brackets
560 stars (20m)
16 end caps
Fittings included
excludes 21mm galvanized round tube (tube sample in package)
 We can assist you on getting poles on your behalf, please check with us on redelivery in SA. Poles are there for the spikes to rotate on, can either source from Spike-it or local steel supplier.