Perimeter Spike Solutions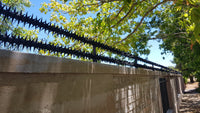 Maximize your Perimeter Security with Rotating Spikes
Excellent Rola Spikes™ to Maximize your Security and same time raising the height of your wall. 
Great backup Security Solution to prop up with or without your Electric Fence for added Security, Great Security for Load Shedding.
Rotates on Touch
Spikes looks Pretty neat but Dangerous!
NB: Please beware of scammers posing as resellers and cheap immitations that are not UV protected. Double check with us for certified agents/distributors and installers for your own protection, rather be safe than become a victim.
Rola Spikes™ is Trademarked and Officially Owned by Security2Africa™, feel free to checkout our affiliated website www.rola-spikes.co.za
Find Out More
Why Choose Security Spikes for your Wall as an Effective Perimeter Security Solution
Security is a top priority for any homeowner or business owner, and it's important to take measures to protect your property from intruders and pests.
One Effective Solution is the use of Security Spikes on your walls.
Find out why Security Spikes are an Excellent Smart Choice for Perimeter Security:
Click to Read More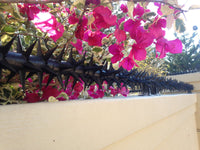 Sean du Plessis

Had electric fencing installed a while ago only to notice the problems with the system and the idiots still managed to climb over, was advised to put Rola spikes and have not had any problems since then! Thank you Spike-It for your expertise and great service much appreciated.
Retief Nevelling

We recently bought a new home and decided to upgrade our perimeter security
through Spike-It. Thanks to the friendly and efficient service from Billy
and his team we no longer present an easy target.

I am quite impressed with the rolling spikes after seeing them survive (mostly)
a falling tree caused by a recent storm. I am grateful to Billy for squeezing me
into his busy program to fix the the resulting small gap in my perimeter security.
Naomi Lahoud

Just a line to let u know we put up on our back wall and that same night some one tried to jump the wall and left behind flesh and blood. Many thanks for your quick responses.
Jaco Niemand

I had the rotational spikes installed at my house. From the initial contact to the completion of the installation, was a pleasure. The staffs were very friendly and helpful. Installation of the product took half a day and professionally done. The spikes blend in nicely and that is what we were looking for. I can definitely recommend them and the product.
Lyn Nel

2 guys attempted to break into my house past 2 weeks until installation done. All quiet here ,even while away over new year

have spread the word to all our friends
Location
Head Office
10 Crinum Road
Blouberg
Cape Town
Monday - Friday 9am - 4pm
This address is for collections and by appointment only.
021 020 1591
or WhatsApp
071 155 1101