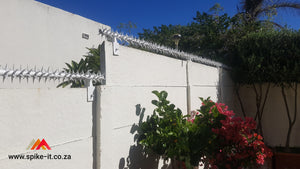 Full 6 meter DIY kit - Rotating Security Spikes
Includes:
5 x precast brackets
140 stars (5m)
4 end caps
Fittings included
includes 21mm galvanized round tube supplied in 1.5m lengths x 4 Lengths
Easy to install, no maintenance and UV protected to last well over 10 years.
Excellent deterrent against wall jumpers / intruders. Rated as one of the most effective Perimeter Security Solutions by experts.