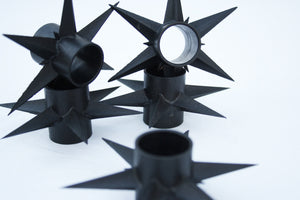 Available in black and white colour only, our quality sharp spikes or what we call stars, are extremely sharp and rotate on galvanized round tubing. Each individual spike "star" has six spikes and they rotate when touched, which makes it virtually impossible for potential criminals to grab on to and climb over perimeter walls, fences, gates etc.
28 stars per meter. Stars sold per unit. Star spikes Rotates on Galvanized Steel Tube.

Can be trimmed using an angle grinder to cover any visible gaps on galvanized steel.